San Ignacio Lagoon • Gray Whales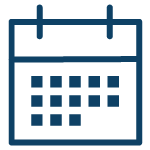 Mid-January – Mid-April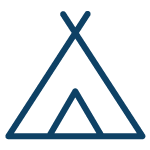 Luxury Camp
Located in the far north of Baja Mexico, San Ignacio Lagoon is the last untouched lagoon for gray whale encounters.
Each winter gray whales migrate to the warm, shallow waters of Baja Mexico to mate and calve. San Ignacio Lagoon is their first stop, and most gray whales will choose to stay here for the entirety of winter. We'll take you out average of three times a day on our beautiful new pangas, complete with sunshades and compact heads, to find these gentle giants.
Wonderfully remote yet just a one hour and 50-minute flight from Cabo San Lucas, we will fly you by private charter to San Ignacio lagoon, where you can come face-to-face with these whales while staying in our luxury tented wilderness camp.
Wild Experience
Aside from meeting the world's friendliest gray whales, San Ignacio is brimming with adventure. Explore the cactus-studded desert and dazzling white salt flats in search of coyotes, grab our binoculars and spot flocks of birds, including herons, ospreys, and beautiful white egrets; and spend evenings marvelling at the uninterrupted starlit sky. We'll also have daily naturalist presentations so you can deepen your knowledge on the local flora and fauna.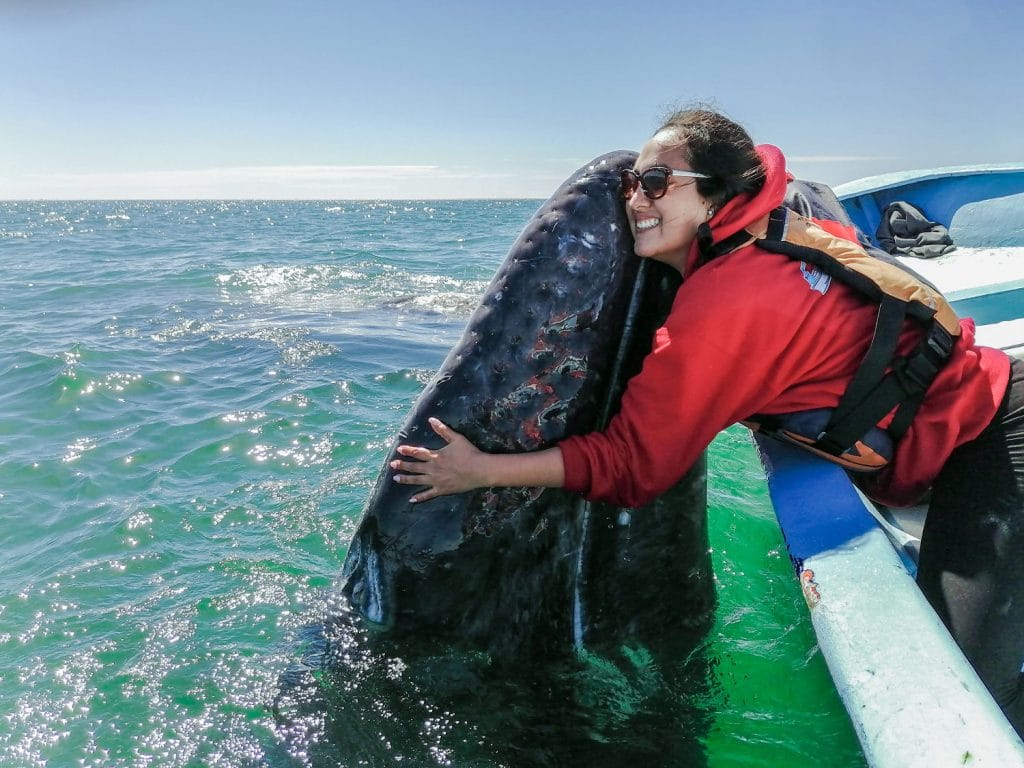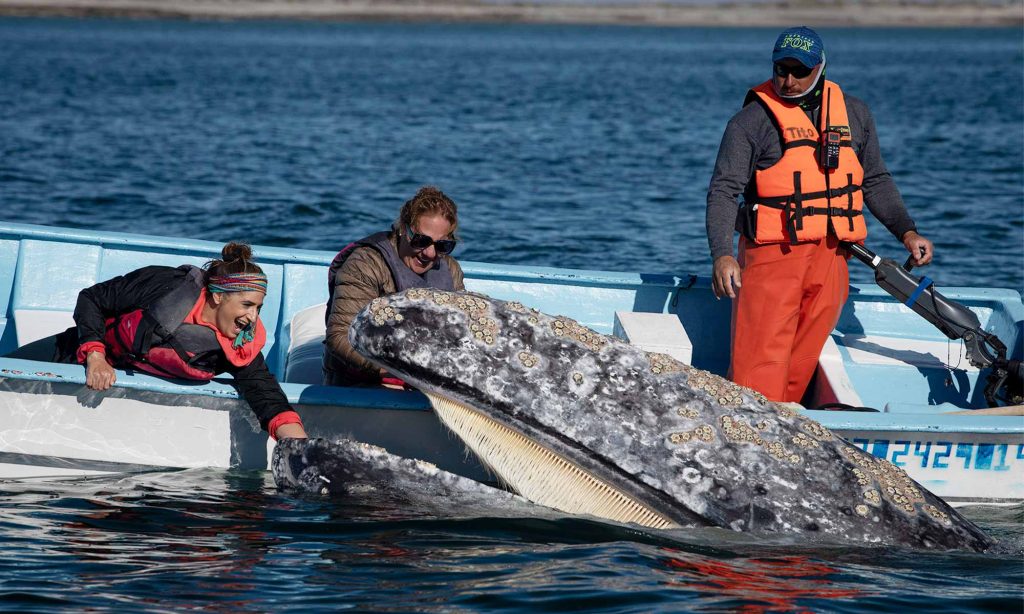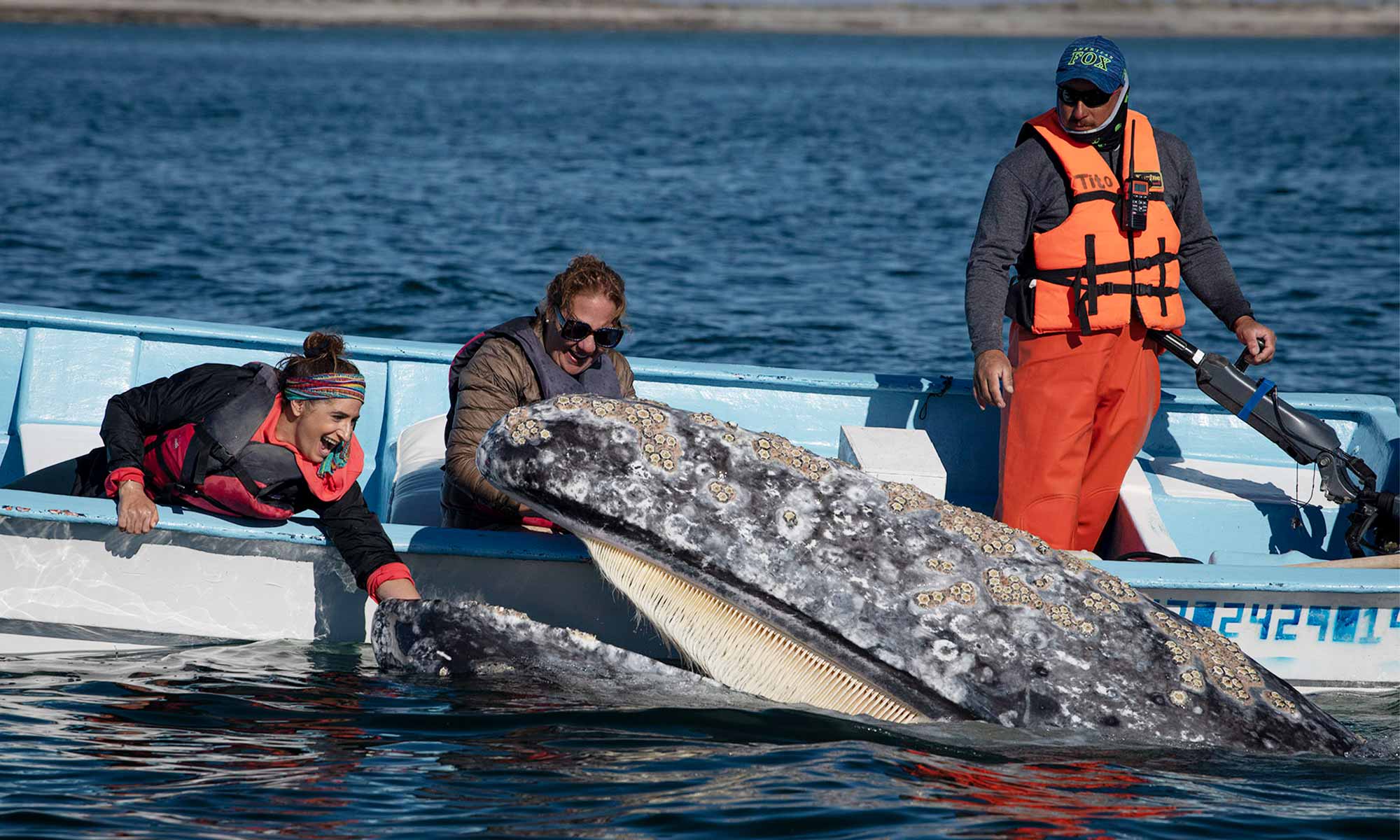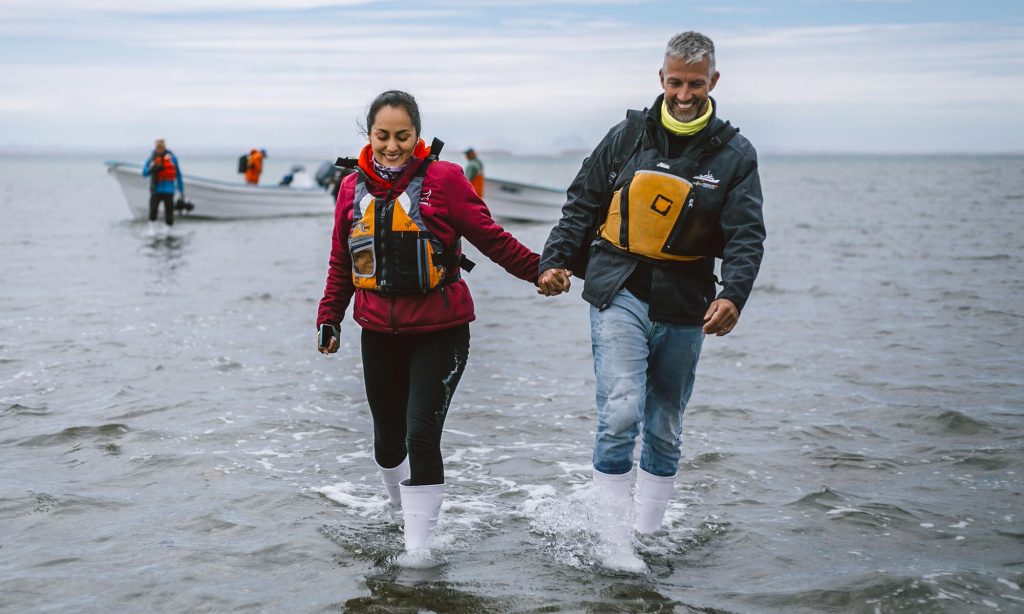 Sample Itinerary
DAY
1
Arrival to San Ignacio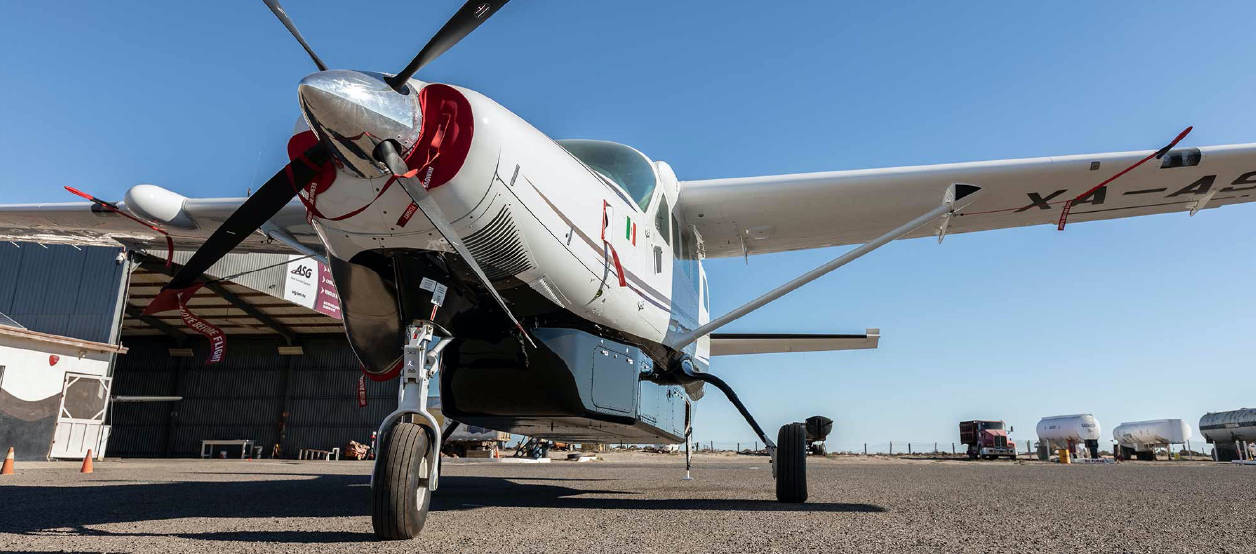 Welcome! Bienvenidos! We will collect you directly from your Cabo hotel at approximately 7:00am for a morning transfer to the Cabo San Lucas airport. Our private Cessna charter aircraft, complete with leather seats and air conditioning, makes the one-hour flight up to remote San Ignacio a breeze!
Upon arrival to our luxury camp, you will be welcomed by our expert naturalist guides and attentive hostesses with champagne mimosas, before whisking you away to get straight out onto the water with the gray whales! Get ready to watch out for spouts!
Following your first whale encounters, you will return to camp for fully-catered meals and to enjoy all our camp has on offer. Take out a kayak or paddleboard or grab an ice cream or cold drink from the bar to enjoy the spectacular sunsets over the lagoon.
DAY
2
3
Whales, Whales, Whales!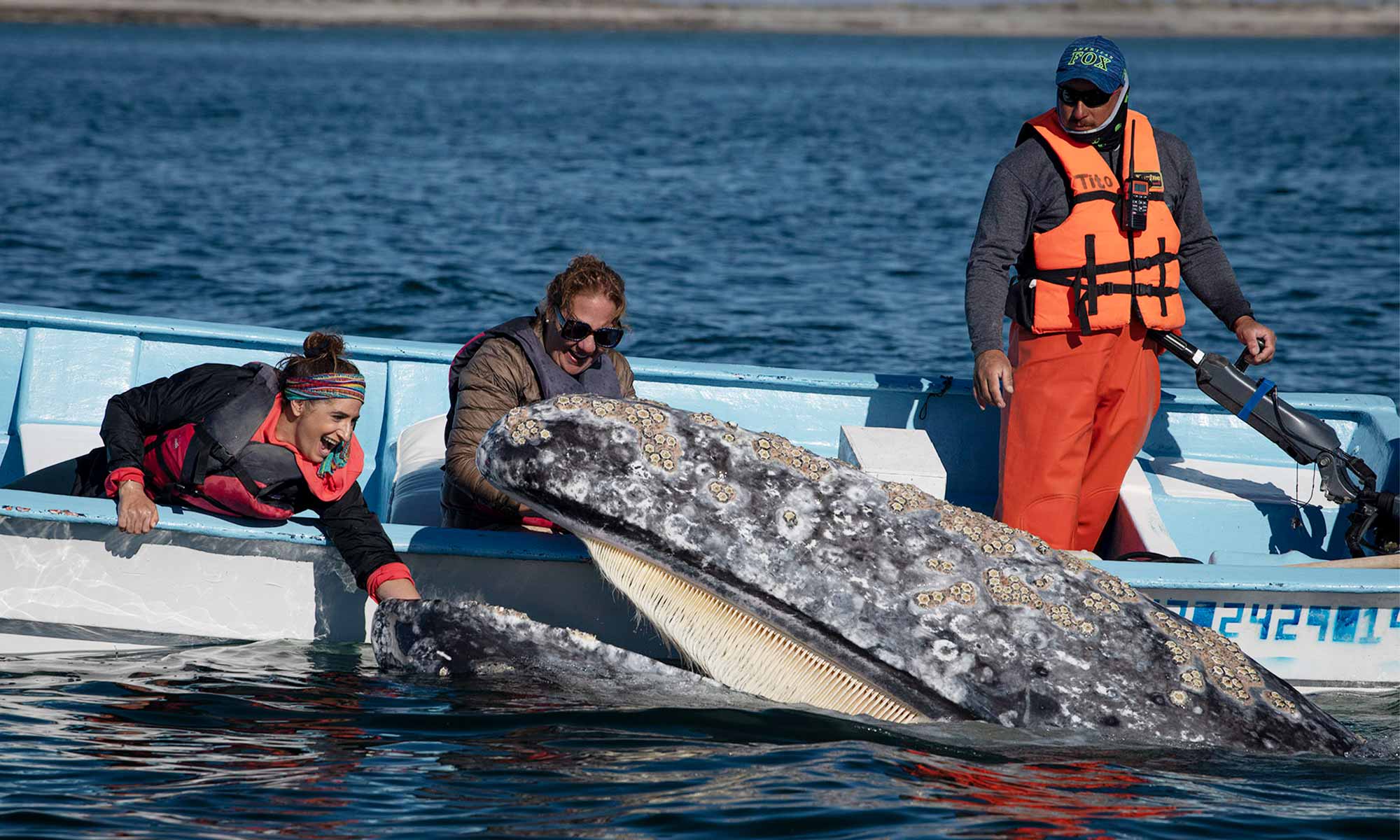 Whale watching to your heart's content! We will start our whale watching sessions at 8:00am and continue through sunset, and you can expect three to four 90-minute encounters each day, dependent on capacity restrictions at the lagoon. Our goal is to ensure you get the most out of this once-in-a-lifetime experience with these incredible cetaceans. Accompanied by our knowledgeable guides, watch them roll, breach, spyhop, and tend to their young. You may even get the chance to stroke these incredible creatures.
In your downtime, you can take out one of our kayaks for a paddle on the calm lagoon waters or explore the shoreline tide pools, watching out for the diverse bird life in the surrounding mangroves. Our attentive staff will assure you are served delicious, fresh meals and have everything you need.
DAY
4
Departure
All good things must come to an end. Following breakfast, our private charter plane will return to Cabo San Lucas at 10:30am. We recommend scheduling your departure flight no earlier than 3:30pm. Of course, we don't want you to leave, and we encourage you to join us for more adventures in the Sea of Cortez, Cabo Pulmo and Magdalena Bay!
You May Wonder
What am I going to see ?
You can expect up-close and personal interactions with Pacific gray whales! San Ignacio Lagoon is also home to a variety of bird species including nesting ospreys and egrets.
When should I go?
The peak season of San Ignacio whale watching is between the end of January to early April.
What's included in the trip?
Return chartered flight from Cabo. Hotel transfers in Cabo. Accommodation, activities, meals, snacks and non-alcoholic beverages plus whale watching subject to capacity control and weather. On-site naturalist. Park fees, gift shop, bar, gratuities and camera rentals are NOT included.
What airport do I fly into?
SJD Los Cabos International for both commercial airlines and private aircraft. Private aircraft are welcome to use the 3000 ft compacted sand strip at our camp. There is a 6000 ft paved airport 1.5 hours away at Guerrero Negro with connecting transfers.
Photo & Video Gallery

Excited About San Ignacio Lagoon Gray Whales?